Does it really cost only 6 cents to print a page?
Understanding the Total Cost of Ownership (TCO) of your entire printing environment is the first step in knowing the true cost per printed page – which is usually nowhere near 6 cents to print a page!
Deciding on a printing device that will cater for everyone's needs, but at the same time fit the budget, may seem impossible. Most companies base decisions on the cost per page to determine the best option in terms of price.
Before figuring out what option works out cheaper, you must understand what exactly you need in a printing device to ensure you don't pay for a whole lot of functionality you won't use.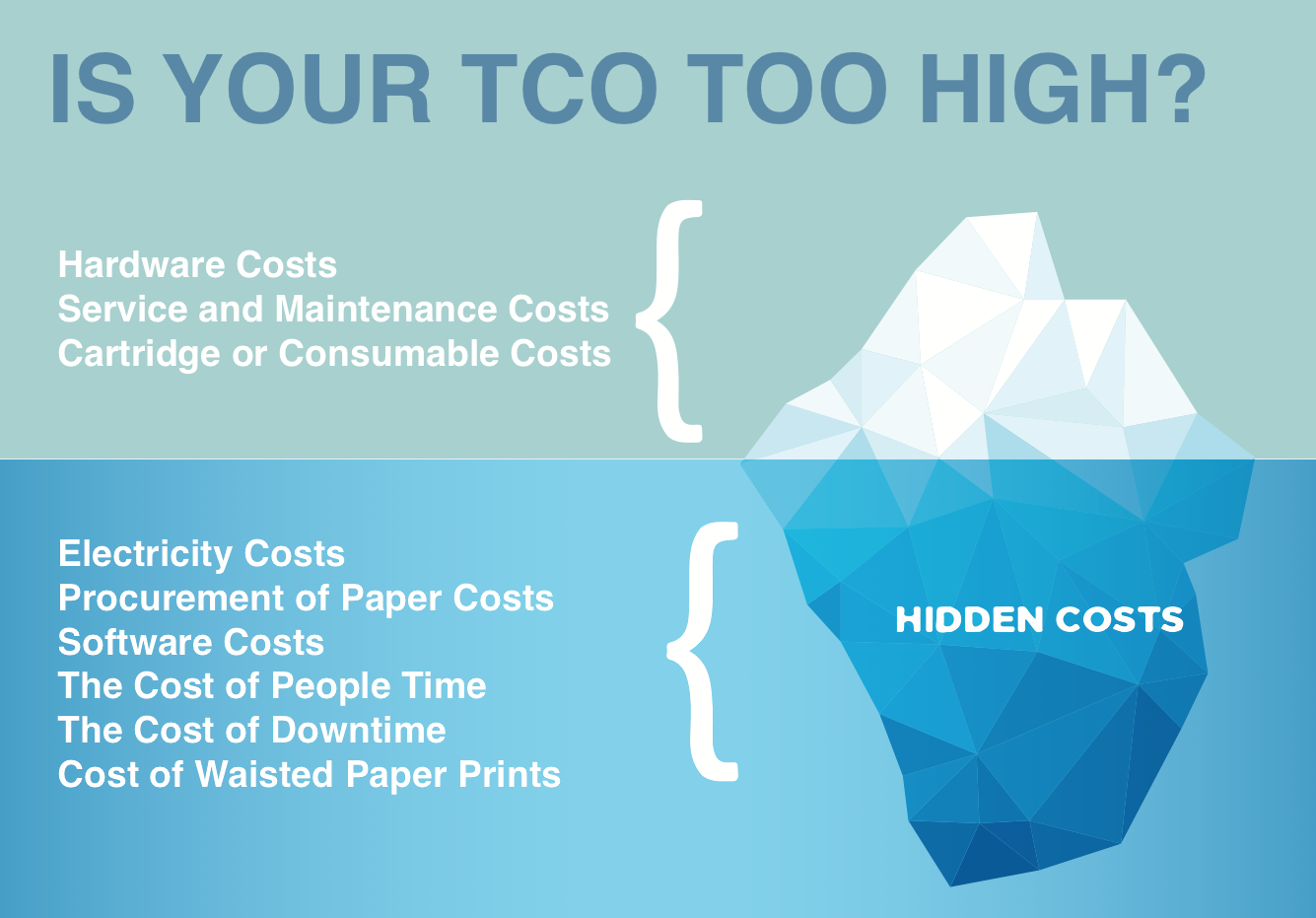 In calculating your TCO you should include:
Cost of consumables

Cost of service and maintenance

Software costs

Hardware costs

Rental or finance costs (as well as the applicable escalation rates)

Minimum billing costs
When factoring in the above – do you believe that your cost to print a page is still only 6 cents per page across all your machines? Gartner estimates companies spend between 1% and 3% of their turnover on printing. It is important to understand what this cost actually is and what your print environment is made up of.
It's all about understanding what the costs are made up of for the page that eventually comes out of the device. These costs can be divided into hard costs and soft costs as follows:
What hard costs are associated to my printed pages?
Hardware

–

The actual device.
Outright Purchase

–

When a device is purchased, it is placed within a company's asset register and is usually depreciated over a 3-5 year period.
Rent or Finance

–

Devices that are placed on rental are typically financed over a 36 / 60 month period, where a monthly fee is then payable to the vendor.
Service and Maintenance or Service Level Agreement (SLA) Cost

–

These costs are typically billed on a cost per printed page basis. Depending on the device (mono or colour), these costs are separated between a rate for a black / white and a colour printed page.
These costs will typically include the following:
Toner

Repairs

Time and materials
Devices often have a minimum bill attached to the cost, which means that the vendor charges a set rate per month for a set number of "free" pages. If you do not print the set number of free pages, your effective cost per page increases considerably. E.g. R 200 minimum bill for 2000 free pages, however if you only print 1000 pages your cost per page goes from 10 cents to 20 cents!
Cartridge or Consumable Costs
These costs are usually applicable in the absence of a Service and Maintenance Contract. These purchases are typically made on a purchase when required basis.
Electricity Costs
This is the consumption of electricity that the device consumes when it prints and /or when the device is on.
Paper Costs
These costs are associated to the actual paper that is printed on.
Software Costs
This cost is often optional for clients who want proactive management for devices or want to get a view of what people are printing.
What soft costs are associated to my printed pages?
The Cost of Peoples Time

–

This particular cost is very difficult to measure, as it usually includes the following role-players' time within the company's printing space: IT, Finance, Management and Operations.
The Cost of Downtime

–

A printer that is offline leads to downtime in company operations, which will cost the company money.
The Cost of Unnecessary or Wasted Print Pages – It is estimated that only 40% of what is printed is used again.
To bring this all together, what may seem like a good deal for you and your business may not be so pretty after all. Research has shown most companies don't understand their cost to print.
Want to have a print assessment done to find out how we can help save you money, click on the below link to have one of our Consultants contact you.
Need to become more efficient and sustainable? Our MPS Service offering can assist you in driving physical